July 17, 2023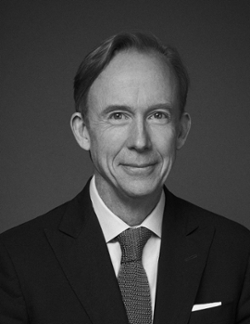 Deans Update
Summer is a time for travel and reflection. I had the opportunity to visit the United Kingdom last month and visit architectural sites I have longed to visit. It filled me with such excitement knowing our London Summer Studio students will soon be doing the same.
Reflection often means looking back at the good, but also challenging ourselves to improve. I am thrilled to report that our undergraduate enrollment is up 47% and our graduate program is up 63% this year. We will be welcoming ten international students to a graduate program that only saw two last year. These are good problems to have! Read More
Architecture Students Collaborate With Smithsonian to Rebuild Geodesic Dome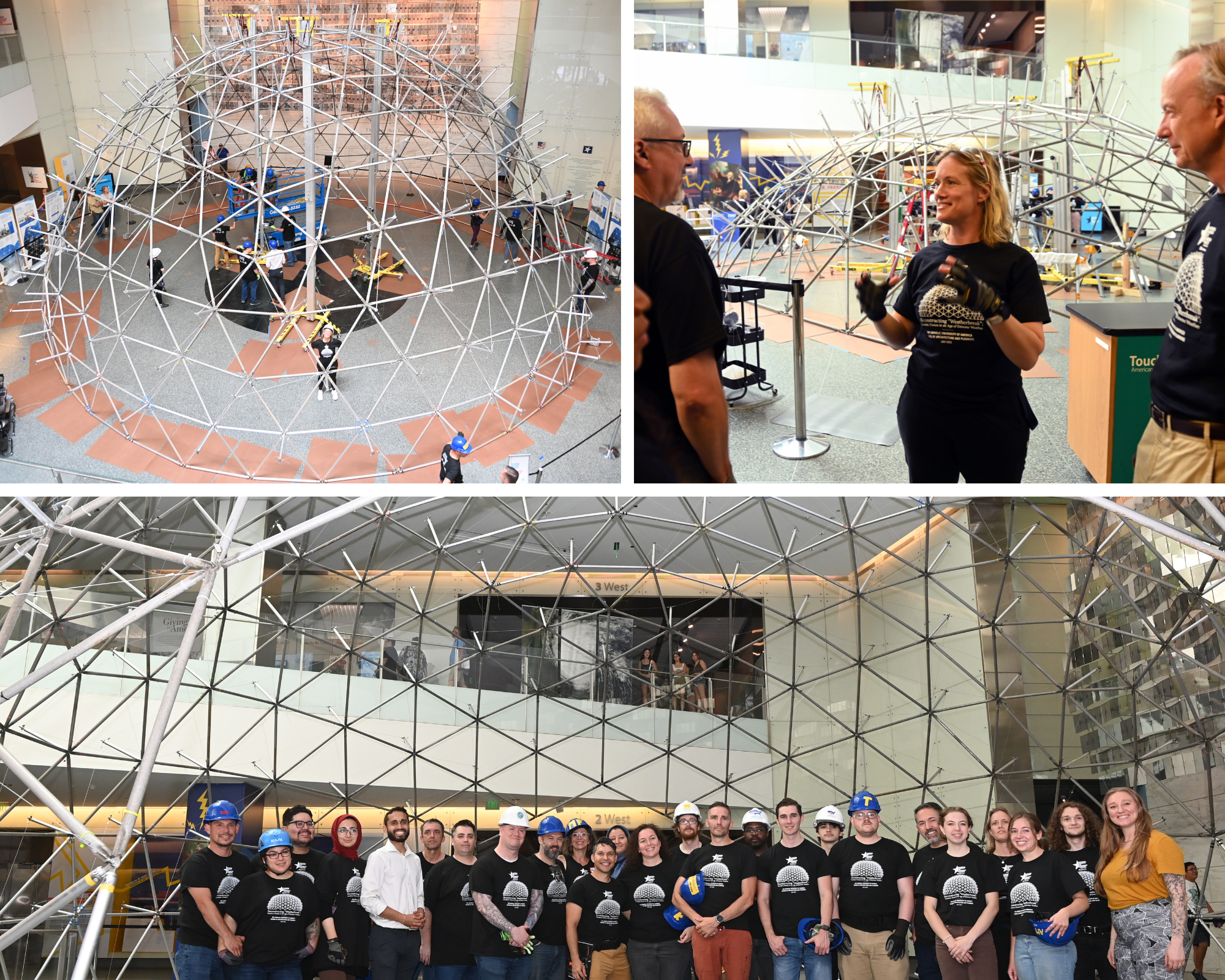 The School of Architecture and Planning collaborated with The Smithsonian's National Museum of American History on an exhibition entitled "Reconstructing 'Weatherbreak' in an Age of Extreme Weather." This collaboration, led by museum curator Abeer Saha and Catholic University assistant professor Tonya Ohnstad, reconstructed the "Weatherbreak" – the first large-span geodesic dome to be erected in North America – within the Museum in collaboration with museum staff, students and faculty July 5-7.  Read more.
Beaux Arts Ball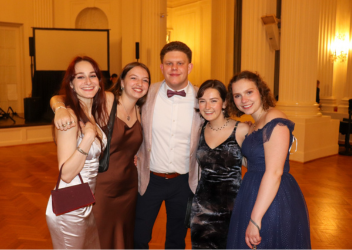 For the first time since Covid, The School of Architecture and Planning held a Beaux Arts Ball on April 15 at The Hall of the Americas at the Organization of American States. The Ball is based on the annual costume ball traditionally given by students of the Ecole nationale superieure des Beaux-Arts in Paris each spring. In preparation for the Ball, the students voted for faculty members in different categories. The winners were:
Most Quotable: Randy Ott, Ordinary Professor
Best Dressed: CJ Howard, Assistant Professor
Mr./Mrs. Worldwide: Adnan Morshed, Ordinary Professor
"Face of Crough": Lorenzo DeAlmedia, Facilities Manager/Fabrication Shop Manager
Most Likely to get Off Topic: Patricia Andrasik, Associate Professor
Photos by Ryan Tufford
Gabriella Faccone, Isabella Bernard, Vincente Johnson, Veronica Moore, Claire Laux enjoy the evening.
Class of '23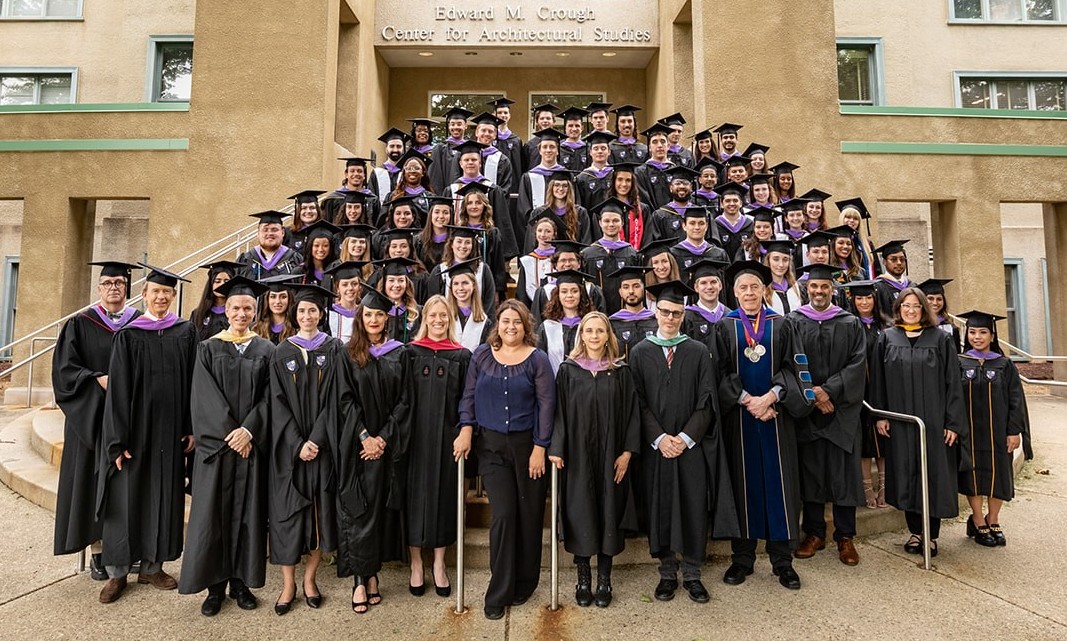 The School of Architecture and Planning is proud to announce the graduation of 61 students in May. Thirty-five students received a Bachelor of Science degree; four received dual degrees of Bachelor of Science in Architecture and Bachelor of Science in Civil Engineering; three received a Bachelor of Arts in Architectural Studies; one received a Bachelor of Science in Environmental Studies; 16 recieved a Master of Architecture, and two received a dual degree of Master of Architecture and Master of Science in Net Zero Design. 
Foreign Studies Student Work at AIA and Italian Embassy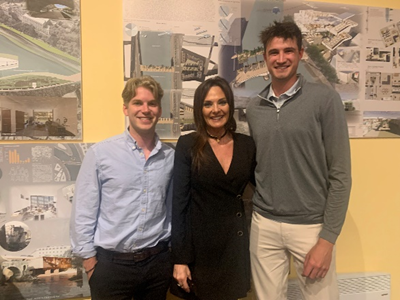 Lavinia Fici-Pasquina, M.Arch '99, associate professor, led two exhibits that highlighted student achievements in the Foreign Studies Program at the Italian Embassy and the AIA District Architectural Center (DAC) in Washington D.C. last March. These presentations displayed design projects ranging from Sustainable Inhabitable Bridges; Equitable Halfway Homes; Immigration-Integrating Facilities in Rome; and Portrait Galleries in Malta.
Career Fair 

Left Photo: Rising Senior Meganne Donachie | Right Photo: New graduate Hugo Castillo
Catholic University's American Institute of Architecture Students (AIAS) Chapter hosted a Career Fair on Feb. 10 in Heritage Hall that featured more than 50 local and regional firms. Students' final projects were also on display in Crough Center. "It was a fantastic career fair put on by CUA Architecture's AIAS. Hickok Cole was happy to meet so many fantastic, talented students," said Patrick DiGiovanni, AIA, NCARB M.Arch/M.S.S.D '15.
Alumni Profile 

Trip Hereford (B.S. '98, M.A. '99), Principal at Hereford Dooley Architects in Nashville, Tennessee, recently made a gift to the School of Architecture and Planning to establish The William "Trip" Hereford Endowment for Internships and Employment. We will use his generous gift to assist students in securing internships, employment and building their career network.  Read More
Perini Plaza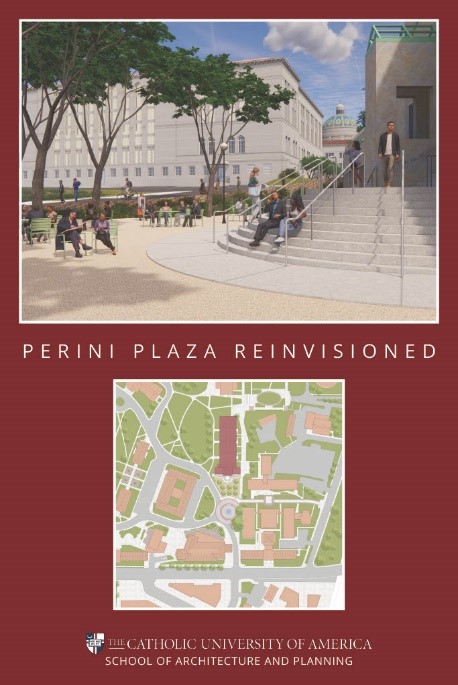 Crough Center is located at the new academic center of campus, which will be marked by a large fountain to be constructed with the new Nursing building (Jan. 2024). The School of Architecture needs to reflect on the outside the beautiful work that is happening inside with a reimagined Perini Plaza. 
Plans include the addition of movable, outdoor furniture, upgraded landscaping and a gravel surface. Blessed with natural shade from ample trees, we can create an inviting outdoor space that can be used nearly all year-round.  For more information on how you can support this project, please contact Christine Klecic, Assistant Dean for Advancement.
Architecture as Freedom Exhibition to Debut This Fall
Architecture as Freedom, an exhibition featuring the design of several regional offices across rural Bangladesh, curated by Ordinary Professor Adnan Z. Morshed, Ph.D., will be inaugurated on Wednesday, October 18, 2023, and will run through January 3, 2024. It will take place at the District Architecture Center, located at 421 7th Street NW, Washington D.C.
The offices were designed for Building Resources Across Communities (BRAC), the world's largest non-governmental organization in terms of the number of employees serving marginal communities. "These projects are architectural prototypes that narrate how the language of architecture can symbolize the agency of poor communities and the pursuit of social justice," Dr. Morshed explained.
Our Faculty
Joining us in the classroom this summer is Stacy Smedley, AIA Honorary, who is teaching Embodied Carbon. An expert in LEED and Living Building Challenge certifications, with a passion for reducing materials toxicity and carbon emissions associated with construction.
Faculty Outside the Classroom

Julio Bermudez, Ph.D. Ordinary Professor, was featured on the Templeton Religious Trust website.  His research will also be featured this Fall in a video by Templeton's public relations company, Grey Matter, and a PBS program titled "Closer to Truth."
Read more faculty stories outside the classroom.
BOV member Christopher Pagliaro featured

Christopher Pagliaro, of Christopher Pagliaro Architects was featured on the cover of Connecticut Cottages & Gardens, March 2023 issue.  The home was a collaboration with Fletcher Custom Homes and Oaklee Design, along with Artemis Landscape Architects.  
In Memoriam
Seymour Auerbach, long time faculty member died last fall. View his online obituary and add a memory.
Related News