Moderated by

James McCrery

, Professor, School of Architecture and Planning,
The Catholic University of America, Washington, DC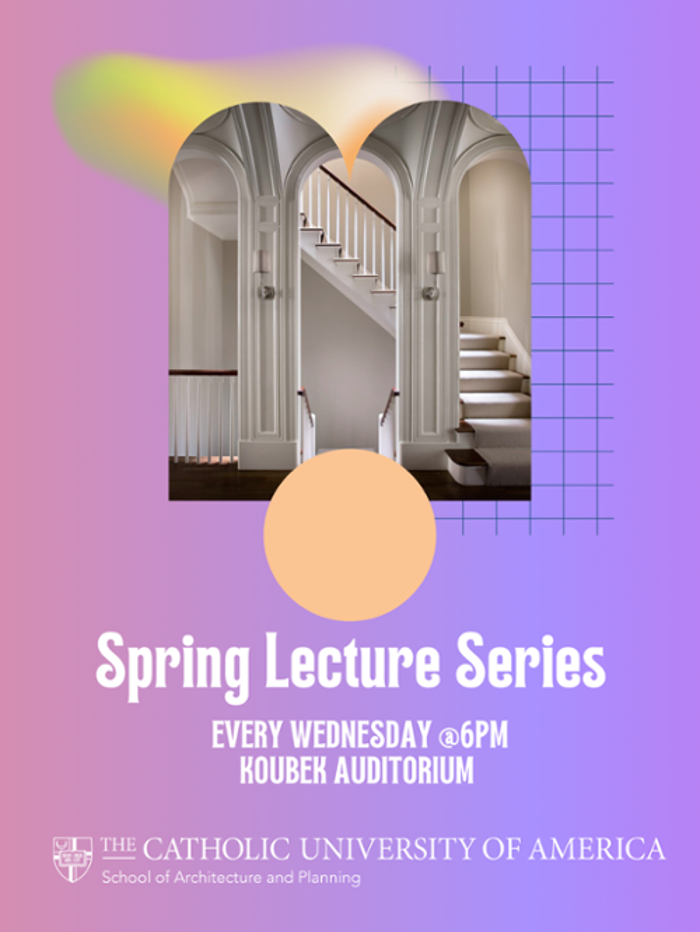 Timothy Smith and Jonathan Taylor - Architecture: Town, Country, and University

Timothy Smith & Jonathan Taylor established their practice in London in 2010. Through their practice and their teaching they have developed a distinct and growing reputation for their interest in classicism and its potential as a living language of architecture. They do not engage with this way of thinking for nostalgic or sentimental reasons but as a foundational armature for a delightful and robust architecture of the future. They do not deny the inspiration they draw from the buildings of the past, but in them they observe the thread of a continuing tradition, which relates buildings of high and low status, differing geographical, legislative and social contexts, and varying construction techniques and typologies, across many centuries.

 

In their lecture they will explore a type of classical architecture which they find particularly inspiring. They have called this type of architecture 'marginal classicism', and what they propose is not a grand theory, but rather some observations on a loose grouping of buildings that are classical in nature and which share some common characteristics and a sensibility which resonates with contemporary architectural practice. 

Calder Loth - Re-Constructing Historic Buildings

Calder Loth is the retired Senior Architectural Historian of the Virginia Department of Historic Resources. He serves as Vice-President of the Center for Palladian Studies. His publications include The Virginia Landmarks Register, Virginia Landmarks of Black History, Lost Virginia, as well as numerous articles relating to historic preservation and classical architecture. In 2008 Loth was the first recipient of the Secretary of the Interior's Preservation Award for service to state preservation programs.  He was the recipient of the 2010 Institution of Classical Architecture and Art Board of Directors Honor Award. In 2017 he received the Virginia AIA Honor Award for significant contributions to the understanding of Virginia's built environment.  Loth is a member of the Virginia Art and Architectural Review Board and serves on the University of Virginia Historic Preservation Advisory Committee. Loth was a co-curator of the RIBA traveling exhibition "Palladio and His Legacy, A Transatlantic Journey;" 2008-10, and was the author of Congressional Resolution No. 259 honoring the 500th anniversary of Palladio's birth—passed unanimously.

William Newton - Architecture from the Critic's Eye and Mind

William Newton serves as the art critic for the online magazine The Federalist. He is a graduate of the Georgetown University School of Foreign Service, The University of Notre Dame Law School, and Sotheby's Institute of Art in London. He lives in Washington DC.

Wouter Boer - Works in Modern and Traditional Architecture

Wouter Boer Architects is based in Washington DC.  The firm focuses on modern architecture, working on a wide range of projects throughout the country.  Boer studied architecture at Unitec of Technology in Auckland, New Zealand. He holds a Masters of Architecture from the University of Notre Dame and, has taught at the University of Maryland's and The Catholic University of America's graduate program.  Boer started Jones & Boer Architects with his co-partner, David Jones in 2003.  In 2021 Boer founded his own practice, Wouter Boer Architects, which focuses in Modern Design.

Peter Pennoyer - Urbane Architecture

Peter Pennoyer is the founding partner of Peter Pennoyer Architects, the New York-based architecture and design firm. He is a member of Architectural Digest's AD100 and a Fellow of the American Institute of Architects. He is the co-author, with Anne Walker, of five books on twentieth-century American architects and the author of A House in the Country. The firm's newest book, Rowdy Meadow: House - Land - Art, is about their creation of a Czech Cubist style house in Ohio. Recent projects include the Art Deco-inspired clock at the new Moynihan Train Hall, a house for the Jeff Koons family, and a new apartment building on Madison Avenue. Follow the firm on Instagram @peterpennoyerarchitects and visit the online at ppapc.com.

Shaun Rieley, PH.D - The City of God and The City of Man

Shaun Rieley is senior director for advancement & programs at The American Ideas Institute, which publishes The American Conservative. He has held positions at several nonprofit organizations in the Washington, D.C., area, focused on veterans' policy, education policy, and philanthropy.

He holds a Ph.D. in political theory from The Catholic University of America, and an M.A. from St. John's College, Annapolis, where he studied philosophy, political theory, and literature. As an undergraduate he studied political science at the University of Delaware. 

Shaun's doctoral dissertation focused on the political theory of Thomas More's Utopia and its relation to Christian humanism and statesmanship. He teaches courses in political philosophy for Hillsdale College's Van Andel Graduate School of Government in Washington D.C. and is a visiting fellow at the Center for the Study of Statesmanship at Catholic University.

Shaun served as an enlisted infantryman in the Army National Guard for nine years, which included overseas tours in Iraq and Guantanamo Bay, Cuba. A native of Delaware, he lives in Hyattsville, Maryland, with his wife and two daughters.