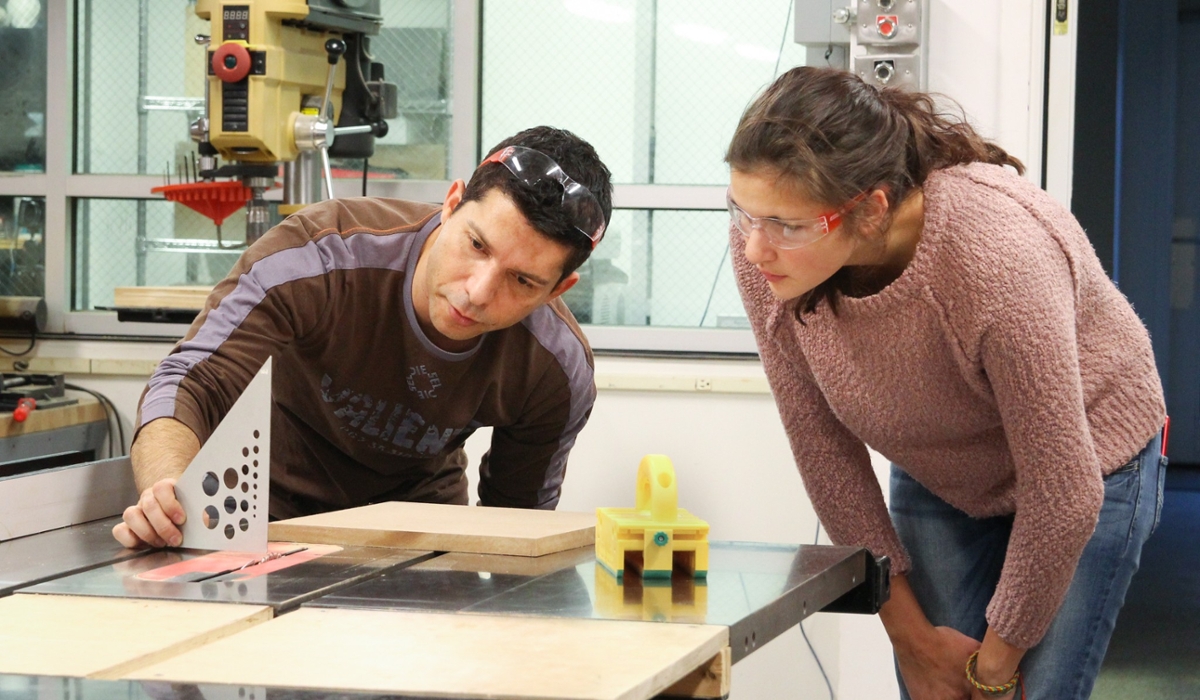 Crough Fabrication Shops
The Crough Fabrication Shop is a comprehensive resource available to faculty and enrolled architecture students as an extension of the classroom and studio. Students are encouraged to work with a wide variety of materials and methods. All incoming students are required to go through orientation. 
The Crough Fabrication Shop includes the Woodshop, Laser Cutting Room, Photo Room, and 3D Printing Lab. The facility is structured as an open environment for material-based learning and research.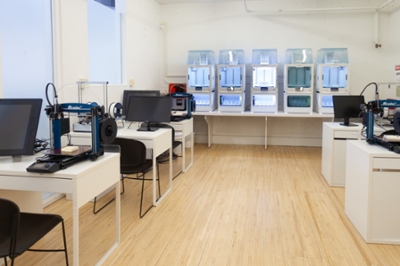 Available Tools
Most tools are available for individuals to operated themselves and include traditional woodworking tools such as table saws, band saws, miter saw, drill press, combination sanders, and small rotary tools. Some equipment, including the jointer/planer, drum sander, and router table, require the assistance of a qualified Woodshop lab tech or shop supervisor. Handheld power tools such as sanders, cordless drills, and heat guns are available for use in the shop. Fasteners, sandpaper, and wood glue is provided for convenience. 
Access is limited to faculty and enrolled architect students. In addition to the training required for all workshop, users must complete a full orientation in order to have access to the other labs.
Woodshop (B007)

The primary function of the woodshop is to assist students and faculty in realizing their ideas in three-dimension. Carrying a design through construction gives students a better grounding in materials and building techniques while it hones design skills. The woodshop is also used to prepare or post-process digital fabrication materials from the 3D printers, laser cutters, and CNC machine.

A skilled craftsman is always on hand during shop hours to supervise the use of our 1,700 square foot shop.

Available Equipment

Hand Planes
2 SawStop T-Glide Fence
14" Delta Bandsaw
8" Powermatic Jointer Plainer
15" Powermatic Thickness Plainer
12" Milwaukee Sliding Compound Miter Saw Variable Variable  Speed Router Table
Drill Press
12" disc/6"x48" Combination Sander
Spindle Sander
Jet 14"x42" Wood Lathe
Jet Benchtop Mortiser
Tenoning Jig
DeWalt Scroll Saw
Delta Knife Belt Sander
Hot Wire Cutter
Cordless Drills
Orbital Sanders
Biscuit Jointer
Jig Saws
Hand Planes
Chisels
Gouges
Various Clamps, Handscrews, Spring Clamps etc.
Various hand held tools

Laser Cutting (B008B)

Our large format laser cutters are used for cutting or engraving two-dimensional shapes from wood, acrylic, paper products, metal and glass. Accuracy is one of the primary advantages of laser cutting, along with flexibility and repeatability. This process is a lot quicker than traditional mechanical cutting methods and is often used in our classes to create rapid model prototypes, especially in the case of more complex cuts.

Available Equipment

Three Universal Laser Systems VLS6.60 with a material processing envelope of 32″ x 18″ x 9″.32" x 18" bed and 60 watt power.

 

CNC Routing (B008)

Contains a three-axis 120x60 Shopbot and one Desktop Shopbot

Available Equipment

ShopBot Desktop
ShopBot PRSalpha CNC 120x60
2 computers with VCarve and Shopbot3 installed

Resources

Documentation ShopBot Desktop
Documentation ShopBot PRSalpha CNC 120x60
Documentation VCarve

3D Printing (121)

The 3D printer aids students in fabricating small scale models for design development with a quick turnaround time and a high degree of accuracy. Ultimakers are free to use for all students and faculty. All the other 3D printing technologies is to be used only after discussion with the director.

Available Equipment

Dedicated computer with 3Dprint software
4 FDM 3D Printers Ultimakers 2
SLA Formlabs Form 2 with dedicated cleaning station and Preform software
DLP 3D Printer Solidator
Roland vinyl cutter
Sawing machine Sailrite Ultrafeed LS-1
8 PC computers with different types of 3d modeling from like clay modeling to algorithmic modeling and various slicing / 3d printing software; all computers are equipped with 3D mice and Wacom Intuos interactive monitors.

Resources

Finishing (B002)

We are lucky to have a large 200 sqft finishing room which allows our students and faculty to spray most any material in a safe, wind free and dust free environment.

Available Equipment

Lemmer T-55 HVLP Finish Sprayer
Announcement
The Fabrication Lab facility will be closed for Fall 2020. Join us in conversation, browse, or contribute to our Models and Projects Page. ‎‎‏‏‎