June 07, 2022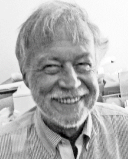 Retired Professor Jay Kabriel passed away in February. The following tribute is from Dhiru Thadani AIA (B.Arch '78). 
I have had the good fortune to have many good friends and mentors who have helped me navigate my journey through life.  It is with a heavy heart that I share the sad news that my close friend, teacher, and mentor Jay Kabriel passed away on February 8. 

Jay was the first architect that I met when I arrived from Bombay at CUA in 1972.  He was first my professor, then an ad-hoc partner working on renderings for other architects, then my peer when we taught design studio together, and finally a colleague working with me to illustrate urban design projects and participating as an integral team member on charrettes — and always a good friend.

Over the years we travelled extensively in the US, and internationally to Costa Rica, India, Italy, and Sweden.  He was always curious and open to new ideas, and willing to embrace anyone interested in learning. 
Jay taught for close to five decades at CUA, retiring in 2019 due to his health.  Yet he continued to practice his craft with vigor.  After his retirement he drew almost every day, starting the morning with a drawing on the receipt slip of the breakfast he had ordered. 
I am reminded that a few months ago when I lost a dear childhood friend, Jay consoled and advised me to focus on what Henry had added to my life, and how much richer I was for having had him in my life-journey.  Although I agreed with the sentiment, I was still overwhelmed by the loss and the fact that I missed his earthly presence.
I now have to grapple with the loss of another dear friend.  To remember how much Jay enriched the lives of myself, my family, and all those he came in contact with.  We were six months shy of knowing each other for 50 years. I will miss him.
Related News