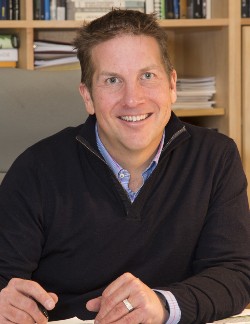 KH Webb Architects, Vail, CO
Kyle Webb, BS Arch '90, received Bachelor of Architecture degrees from both The Catholic University of America and North Carolina State University before fulfilling his dream of settling in Vail, Colorado. Kyle was a project architect with renowned Architect Jim Morter FAIA, in Vail for eight years where he honed his design and architecture skills before deciding to take a leap of faith and pursue his vision of opening his own firm that would embody his style and dedication to the art.
In 1999, KH Webb Architects was born, and over two decades later, the firm boasts an extensive and impressive portfolio of innovative designs, many of which have gained regional and national recognition. Kyle and his team of architectural designers have completed more than 200 projects in the Vail Valley and around the region, ranging from homes to renovations and redevelopments. Kyle's passion for design in context goes beyond Colorado; his team has created unique architectural designs for clients in New York, Florida, Massachusetts, Michigan, Indiana, Ohio, California, Jamaica, and Nicaragua. Kyle is actively involved in both his professional and local community. In addition to our School of Architecture he currently serves on the boards and/or committees of The Kiski School in Pittsburgh, PA, Vail Spa Condominiums, The Game Creek Club, The Town of Vail, and served two terms as a President of Colorado West Section of the American Institute of Architects.