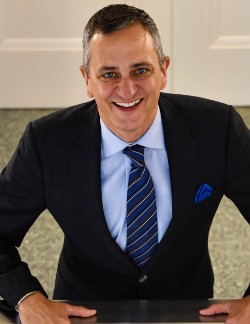 Principal and the President of David M. Schwarz Architects, Washington, D.C.
Gregory Hoss, (B.S Architecture '86, B. Civil Engineering '91) AIA, President of David M. Schwarz Architects, was invited to sit on the School's strategic planning committee which, among other tasks, will undertake a comprehensive curriculum review. 
"We need to rethink our curriculum, which has relied on 20th century Design Theory and Practice, and focus our energy instead on providing the very best architectural education as possible," Hoss explained. "We are at an inflection point with incredible opportunities and a great need to improve the built environment."
Hoss joined the School of Architecture's Advisory Board (the precursor to the current Board of Visitors) ten years after he graduated at the request of then Dean Stanley Hallet. He remained through Dean Randy Ott's tenure and pledged his support as an inaugural member of the new BOV when Dean Mark Ferguson took the reins in 2020. During his long tenure in both roles Hoss has witnessed significant growth in the Board, both in numbers and breadth of knowledge. 
"I'm ecstatic with the increase in participation at the Board level," Hoss asserted. "A broader engagement with alumni and friends of the program enables us to take on a much bigger role from our DC campus and make a difference for our students.