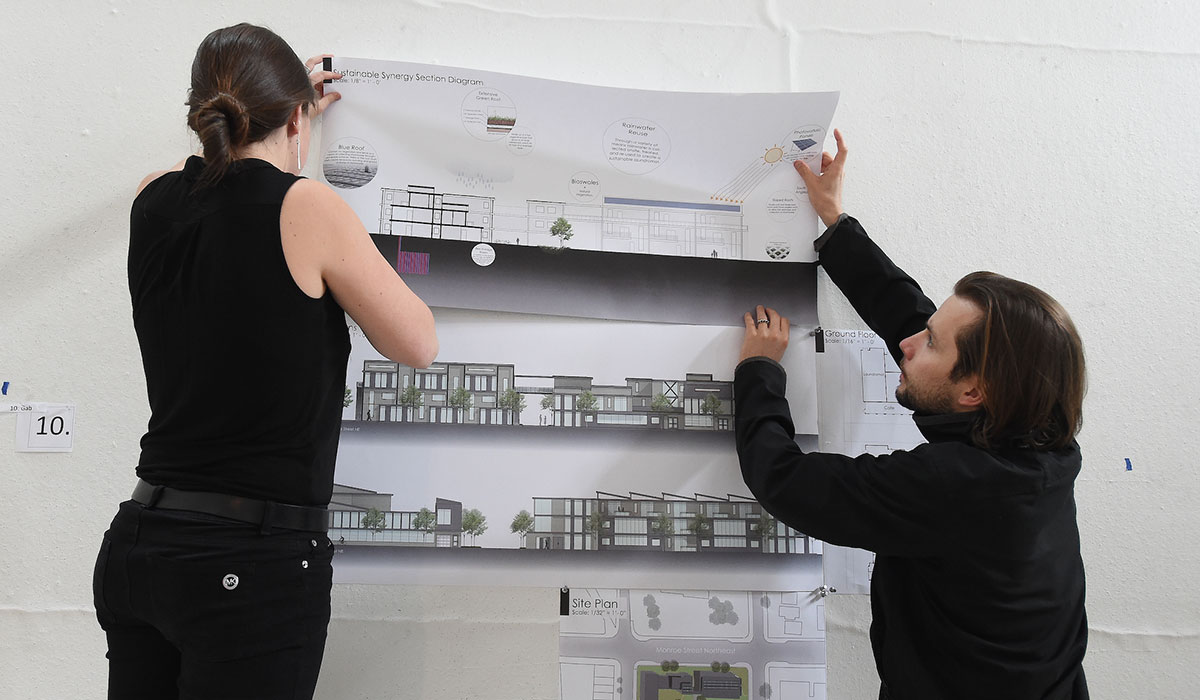 "Protectors of creation, protectors of God's plan inscribed in nature, protectors of one another and of the environment." – Pope Francis
Mission
As leaders of Christian thought and education in the Catholic community, our nation and the world, we as faculty and students owe a duty to God to build and exemplify an environmental ethics as the preservation of creation: a symbiotic relationship between the preservation of human dignity, the environment, and society
The School of Architecture and Planning's mission of building stewardship focuses on preparing architects and designers to assume personal responsibility for the welfare of the world.  Experienced in the integrative, creative, and holistic process of design, architects and planners are uniquely positioned to help forge a compelling contemporary attitude toward stewardship for society at large.

Today, the field of sustainable design is rapidly evolving and growing. Both designers and owners are starting to measure benefits in terms of their impact on human health and environment, as well as cost implications.  The program covers a wide range of sustainable design principles such as greenhouse gas emissions and zero energy design, embodied energy and life cycle analysis, national and international green rating systems, ethical design, facility performance evaluation, sustainable operations and maintenance, water conservation and management, and design for WELL.
Overview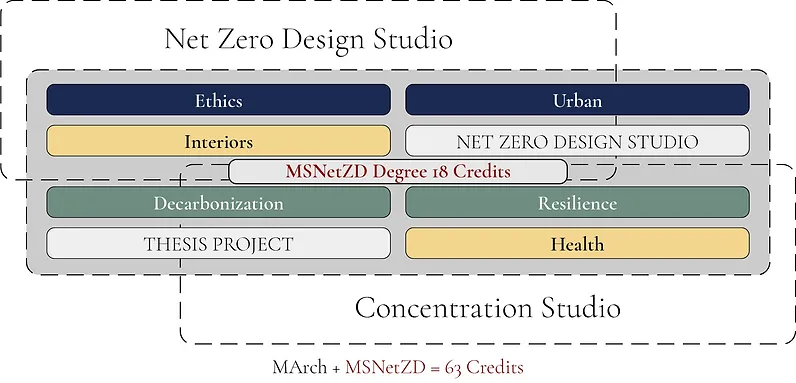 The Master of Science in Net Zero Design program consists of 18 credit hours of coursework (six three-credit courses). Students must enroll concurrently in the school's Master of Architecture (M.Arch.) program (either two or three year program) and the Master of Science in Net Zero Design. If a student pursues the Net Zero Master of Science program, it will add one additional semester to their M.Arch program (two years  + one semester or three years + one semester).

Courses in Net Zero fall under the following categories:  Ethics, Urban Sustainable Design, Decarbonization, Health (individual human wellbeing and public scales), Resilience (water, site, climate), and Interiors (daylighting, biophilia, materials).
Affiliated Organizations
| | |
| --- | --- |
| CHN is committed to tackling climate change and re-orienting international climate change discourse toward arts, culture, and heritage. | The "Built Environment Education now" organization certifies and ranks architecture schools on their commitment to emphasize and increase the teaching of energy responsiveness. |
| The CND Project is an effort by SBSE to create and disseminate resources and tools needed to integrate carbon neutral and zero-energy design into professional architecture programs and practice. | The 2030 Palette is a database to facilitate the design of zero-carbon, adaptable and resilient built environments. |
| Architecture 2030 puts the built environment, the major contributor of greenhouse gas emissions, at the center of solutions to the climate crisis. | The CARE Tool allows users to compare the total carbon impacts of renovating an existing building vs. replacing it with a new one. |