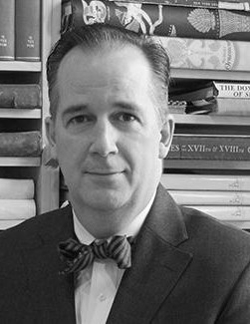 School
School of Architecture and Planning
Expertise
Classical Architecture
Design & Design Criticism
History and Theory
Professional Practice
Bio
James McCrery directs the Classical Architecture & Urbanism Concentration of studies at both the undergraduate and graduate levels. He earned his Master of Architecture and Bachelor of Science in Architecture degrees from the Ohio State University. His Undergraduate studies were concentrated in modernist and formalist design and theory. These led to his Graduate studies concentrating in Post-modernist and Deconstructivist design and theory under Peter Eisenman and Jeffry Kipnis. Mr. McCrery later worked in Eisenman's New York offices.
Rethinking his modernist education, and the philosophical foundations of Post-Modern thought and its implications for architecture led Mr. McCrery to investigate and ultimately commit to Classical Architecture. He joined the Washington offices of the world-renowned master of Classical Architecture – Allan M. Greenberg and submitted himself to a completely new and profession-based course of studies. Mr. Greenberg remains a close friend and mentor.
Mr. McCrery is a practitioner of classical and traditional architecture and is the founder and principal of McCrery Architects. He is an internationally-recognized leader in Classical Architectural Design, especially so in his area of expertise: the design of traditional Roman Catholic Churches.
McCrery is a Registered Architect and is licensed to practice in multiple states. He is a Certified Member in good standing of the National Council of Architectural Registration Boards (NCARB). He is a member of the American Institute of Architects, a Latrobe member of the Institute for Classical Architecture & Classical America; a Founding Member and Board Member of the National Civic Art Society; a Past President & Treasurer for the Society for Catholic Liturgy; and a life member of the Supreme Court Historical Society. He is a National Design Peer of the U.S. General Services Administration, Design Excellence Program and has been awarded for his work by the American Institute of Architects. He is a Presidential Appointee serving as one of seven members of the United States Commission of Fine Arts.