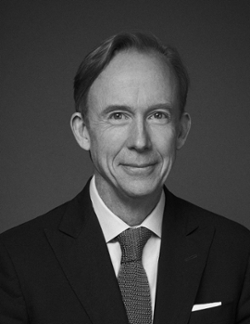 School
School of Architecture and Planning
Mark Ferguson, partner of Ferguson & Shamamian Architects, L.L.P. in New York, was appointed by Catholic University President John Garvey as the dean of the School of Architecture and Planning on July 1, 2020. 
Ferguson holds a bachelor's degree in architecture from Carnegie-Mellon University and a master's in architecture from Princeton University. Since its founding in New York in 1988, Ferguson & Shamamian Architects has grown to a firm of 90 with projects in 23 states and five countries. Its primary focus is the design of private residences including city apartments, townhouses, suburban houses, and country estates. 
Ferguson has experience teaching at the Rhode Island School of Design and serving as a visiting critic at the University of Miami. Ferguson is a member of the American Institute of Architects (AIA), a founding member of the Institute of Classical Architecture & Art, and serves as director of the National Board of the Institute of Classical Architecture & Art. Ferguson and his wife Natalie raised their two daughters in the Park Slope neighborhood of Brooklyn, New York. His daughters, one a lawyer, the other an artist and teacher, are now both married and living in Park Slope and Chicago, respectively.
Awards
AD100 (2006-2019); Mizner Award for Residential Architecture (2018, 2019), Schuler Award for Architecture (2018); Stanford White Award for Architecture (2012, 2015, 2016, 2018); Palladio Award for Architecture (2008, 2010, 2017); Decorators & Design Building Stars of Design (2017); Acanthus Award (2016); Hyland Award for Architectural Design (2013); Arthur Ross Award for Architecture (2003); Residential Architect Merit Award (2001); Glenwood, Illinois Competition Honorable Mention (1996); Young Architects Award (1990)
Books
New Traditional Architecture: Ferguson and Shamamian Architects, City and Country Residences, Mark Ferguson and Oscar Shamamian with Joseph Giovannini, Rizzoli, 2011.
The Parish-Hadley Tree of Life: An Intimate History of the Legendary Design Firm, Chapter by Mark Ferguson and Oscar Shamamian, Harry N. Abrams, 2015.
The Landscape Designs of Doyle Herman Design Associates, Foreword by Mark Ferguson, Images Publishing, 2013.
Contributor to several architectural and interior design survey books including:

 

New York Splendor;

 

Life at the Top;

 

Classical Interiors;

 

New Classicism;

 

The New York Apartment Houses of Rosario Candela and James Carpenter;

 

American Classicist;

 

The ICAA Tenth Anniversary. 
Publications
Ferguson has also appeared in Architectural Digest; Beautiful Homes; C Magazine; The Classicist Journal; Connecticut Cottages & Gardens; Elegant Homes; Elle Decor; Galerie; Garden Design; Hampton Cottages & Gardens; Home Entertainment; House and Garden; House Beautiful; InStyle; New Old House; New York Cottages & Gardens; New York Magazine; Period Homes; Quest; Residential Architect; Santa Barbara Magazine; Southern Accents; The New York Times; This Old House Magazine; Town and Country; Traditional Building; Traditional Home; Vogue