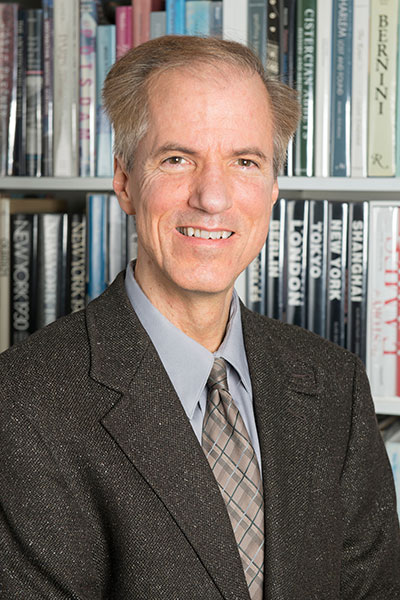 The creation of architecture requires passion, intelligence, and skill. The School of Architecture and Planning at The Catholic University of America seeks to instill these attributes within each of its students by adhering to a philosophy devoted to the integration of artistic creativity, intellectual curiosity, and technical acuity. Our method makes simultaneous appeals – to the emotive, to the ideal, and to the practical. The school's design-oriented programs stress the skillful manipulation of form, the rigorous development of process, and a real-world, problem-solving attitude that takes inspiration from the broad body of professional and societal knowledge necessary to practice in the contemporary world.
A faculty of practitioners distinguished in their respective fields leads this effort, overseeing a full range of instruction in design, design theory, visual studies, history, technology, materials, social factors, and professional practice. A collegial spirit of inclusion remains the school's hallmark. The faculty is dedicated to the dynamic engagement of multiple design strategies and perspectives. Such an approach consciously prepares our students to face a profession that must change constantly in response to varying societal conditions, such as globalization, new technologies, environmental considerations, interdisciplinary practices, and the blurring of traditional lines among design professions. Even in a time of great specialization, the faculty remains dedicated to a well-rounded education. At the school, students attain a creative grasp of design, a comprehensive knowledge of the related arts and humanities, and a strong understanding of the social, scientific, political, and economic contexts in which they will work.
Our location in the District of Columbia, centerpiece of the vibrant and diverse Washington metropolitan area, provides our school with a unique geographical context – an unparalleled laboratory for studying how integration of the design disciplines helps foster urban society. The school draws vitality from and contributes to the city's many cultural and professional resources. Here, faculty and students can reach beyond the immediate discipline of architecture to embrace a nationally important array of museums, political institutions, and professional organizations, as well as consult directly with artists, historians, engineers, social scientists, economists, scholars, and members of government. Further, for over 200 years, Washington, D.C., has been our country's preeminent example of the interaction of theory and practice in environmental design. The Capital's designers have always drawn upon knowledge and experience gained from the past while simultaneously adapting to the changing needs of modernity. Today, our graduates in architecture continue this tradition by acknowledging the challenges posed by contemporary society within a historically significant urban matrix. In our studios, students are directly connected with evolving design issues within the larger community around us.
Our program stresses the physical realization of ideals-where priority is placed not upon either theory or practice but upon their concrete and poetic assimilation. Our attitude is non-doctrinaire, seeking both theoretical proposals and pertinent solutions that can be effectively implemented in contemporary society. We understand that our students' professional careers will likely span half a century. The education we provide must equip them for changes – both anticipated and unanticipated. The renowned yet dynamic character of the Washington, D.C. region is where we pursue that goal. An additional unique quality of the school is its focus on human values. Our program stresses how the act of building expresses and affects the conduct of people's lives. Our mission, as a School of Architecture within the national university of the Catholic Church in the United States, is critically informed by the ethical, religious, philosophical, and societal potentialities of our discipline. Humanity's ultimate condition is intimately connected to the environment in which we live. The questions of how to build, where to build, and how much to build – and why – are more complex than ever before in human history. In addition to stressing the issues of sustainability, land use, energy consumption, and appropriate materials, we must carefully and collaboratively rethink the very order of our social and natural communities. The School of Architecture and Planning has always understood and accepted the challenge of using architecture as a vehicle to, literally, build a better world. Our goal is to transcend instrumental rationality and refocus discussion on humanity's ultimate concerns. In keeping with the mission of The Catholic University of America, the school seeks the qualities of critical thinking, analysis and synthesis that will lead to life-long learning and the continuous desire to be of service to society.
We seek applicants who demonstrate through their interest, abilities, and academic achievements strong potential to confront these complexities. Our mission is to prepare students for positions of responsibility within a wide spectrum of organizations and institutions whose goals are to improve the quality of our lives and environment. We invite qualified students to participate in our rigorous and challenging educational programs that will prepare them to be leaders in this most complex of all the professional arts – the discipline of architecture.
Randall Ott, AIA, Dean