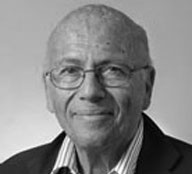 School
School of Architecture and Planning
Expertise
Planning
Workforce Housing
Renewal
Mixed Use
Bio
A member of the faculty for 56 years (Spring 2019), Professor Levine's teaching experience includes courses covering history, mixed use development, housing, the general plan, federal community assistance programs, planning techniques, planning principles, and thesis.  These offerings integrate pragmatic experiences related to planning, design, public policy, built-environment, and economic sectors influencing the status and outlook of our cities, metropolitan regions, and the nation-at-large.

In addition to teaching, Professor Levine has served as the chair of the School of Architecture and Planning Curriculum Committee and Student Life Committee.  He also has served on the school's strategic, and Budget committees. His past involvement as the university includes member of the Provost and Law School Dean selection committees, Strategic Planning, and Resource allocation committees, faculty representative on the 2012 Master Plan Selection Committee, the Steering Committee overseeing that effort, and three earlier master planning initiatives. He now serves as a member of the Academic Senate, and the Committee on Faculty Economic Welfare.

At the community level he is President Emeritus of the Jewish Day School (with an current enrollment of 1100 students from K through 12), Capital Camps (a resident camp and retreat center for Greater Washington and Baltimore), JCAB (an agency collaborating programs for higher education spanning Virginia, Maryland and the District of Columbia), a past officer of the Jewish Federation of Washington, and a chair of its planning, budget, and Israel committees.

His role within the profession encompasses president and other constituent elements of the national Capital Area chapter of the American Planning Association (APA), past member of the APA Board of Governors, Chair of APA's Accreditation revised standards, Fellow of the American Institute of Certified Planners, and past member of the Fellows selection committee.

Among his professional contributions has been planning and development of a new gateway (Mamillah) to Jerusalem's Old City, restoration of Washington's Union Station, evaluating national residential needs for the President's Committee on Urban Housing, rejuvenating aging historic enclaves with new diverse activities (for the Pennsylvania Avenue Development Corporation; Boston's Faneuil Hall; Georgetown's public Market), regeneration of areas adjoining transit station locations, assessing environmental impacts of planned major centers, and formulating growth options in conjunction with preserving natural features and resources. 

Currently he is engaged in strengthening several work force housing communities with over 3500 units, creating a major new food hall in Houston, concurrently with developing a containerized automated parking facility in one of the city's destination gathering locales for creative millennium residents, and a multiuse development in Chicago.

In spring 2017 he led a symposium focused on contemporary issues confronting Catholic churches for participants drawn from four mid-Atlantic dioceses. Based on the proceedings, centered on key themes of Plant; Prayer; Plan; and Care; he is the coordinator of the Parish Assistance Program, comprising a consortium of the CUA Schools of Architecture and Planning, Engineering, and Nursing. The primary goal of this initiative is to help churches address major issues related to changing demographic patterns, on-going maintenance and upkeep of physical plant, improving the environment for prayer, and facilitate administrating to senior and young congregants. The strategic plans derived aim at better serving current and future generations.

Since 2006 Professor Levine has directed a summer studio for seniors and graduate students focused on sacred space, urban design, and multicultural facilities and programs housed at the Pontifical Biblical Institute in Jerusalem.

Based on "Their Decades of service" he was one of five faculty members commenting about "Teaching Life" in April 2012 in celebration of CUA's 125 year history.  Within the past several years he has convened a special lecture series in tribute to the late George T. Marcou, professor emeritus.  The inaugural address was given by Adele Naude Santos, Dean of the MIT School of Architecture and Planning, in October 2011.  Michael Arad, designer of the World Trade Center 9/11 Memorial,  planners for the renewing New York's Time Square, and the Deputy Mayor of Houston, have since honored George and the University.

Julie's undergrad degree is from City College of New York; and his graduate degree (Masters in City Planning) at Massachusetts Institute of Technology.