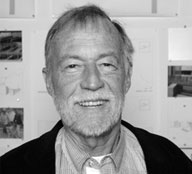 School
School of Architecture and Planning
Bio
Assistant Professor Jay Kabriel has been teaching at Catholic University in the School of Architecture since 1970.
He has taught all levels of classes at the School of Architecture including but not limited to Advance Graphics, Design I, Design II, Design Theory, Architecture Sketching, including 3rd, 4th, and 5th years students. He also is a Thesis Advisor.
He helped to implement Catholic University's first study abroad program in Italy in 1971 and served as Assistant Dean at the School of Architecture from 1976 to 1981
In 1979 he established Kabriel Graphics, a company specializing in architectural signage, design, and drawing presentations.
Assistant Professor Kabriel has also worked with architecture firms such as Harry Weese - Chicago and Washington D.C., Wilmont Bower and Quilin - Washington D.C., National Museum of History Washington D.C., Joe Boggs – Annapolis, MD, and Melvin Villarroel - Marbella, Spain.