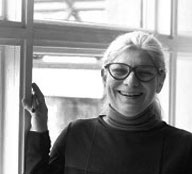 School
School of Architecture and Planning
Expertise
Urban Design
Theory
Languages
English, Spanish, Italian
Bio
Miriam Gusevich is a Cuban-American urban designer, scholar and teacher. She is a tenured Professor at the Catholic University of America and the founding principal of Gusevich-Miles Studio, LLC, an urban design firm based in Washington, DC and Annapolis, MD. Her expertise is on urban design integrating architecture, landscape and green infrastructure. She has over 30 years of experience in the design and implementation of large-scale public environmental projects. These range from the reconstruction of Chicago's 28 miles of lakefront and Chicago's citywide river walk to neighborhood parks. Her built projects in Chicago include Jane Addams Memorial Park (with Louise Bourgeois), Congress Plaza (National AIA award) Cancer Survivor's Garden in Grant Park and Mandrake Park, (North Kenwood-Oakland Master Plan). In Washington since 1998, her projects include master plans for McMillan Sand Filtration Plant, a green spine for Annapolis, MD and design competitions in the US and abroad. She has also published broadly on the theory and history of architecture and urban design. She has received design awards for her built work and for design competitions, and research grants from Arnold W. Brunner NY-AIA, Graham Foundation, NEA, and a Cintas Foundation Grant for Cuban American Architects. Miriam received both an MArch'79 in Urban Design and B Arch '75 from Cornell. She was a Loeb Fellow '97 at Harvard University.
Selected Projects
The People's Plan for McMillan Park: 2012. Design team: Miriam Gusevich, Peter Miles, Joseph Barrick, Filipe Da Silva Pereira and Nina Tatic.
"Heart and Soul" Sibbesborg, Finland. 2011. Honorable Mention, design competition. Design team: Miriam Gusevich, Jay Kabriel, Scott Aker and Anna Cero.
Turning Basin at the intersection of Lake Michigan and the Chicago River. 1988 – 1996. Project team: Miriam Gusevich, Ron Salazar with Harza Engineering.
Built Projects
Cancer Survivor's Garden, Grant Park, Chicago, Illinois. 1996. Design team. Master plan: Miriam Gusevich and Ron Salazar, Architecture: Julie Gross.
Congress Plaza, Grant Park, Illinois. 1996. Design Team: Miriam Gusevich and John McManus. DLK Architect of Record.