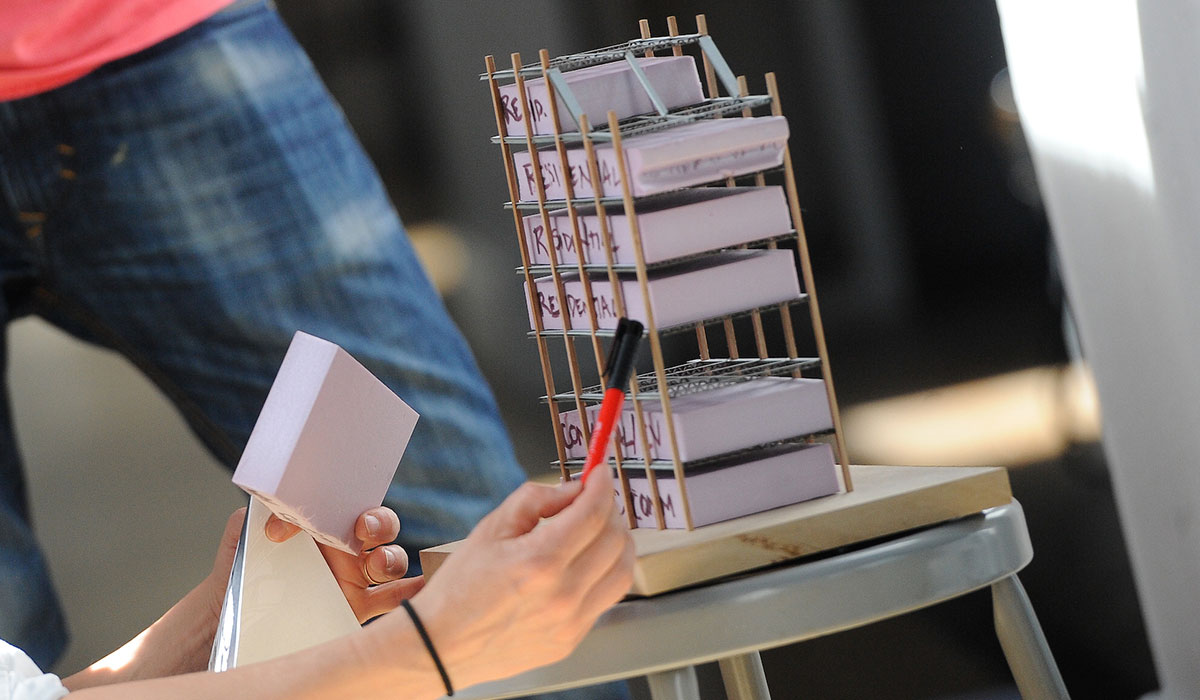 Enhancement of our urban environment, creating beauty and a sustainable public realm is an ambitious goal. We at Catholic University seek to provide opportunities for students to participate in community-based projects, and to fundamentally contribute to their communities as informed citizens and educated designers when they leave our university. Programs such as these efforts build positive relationships and help foster a commitment to community service.
Frequent meetings with Urban Institute Studio, community organization leaders, government agencies and private sector consultants, expanded students awareness of neighborhood needs and desires. These gatherings enable students to understand how the neighborhood impacts daily lives. They learn to identify what aspects make a positive neighborhood feeling and what may be unacceptable conditions.
Iris Miller, ASLA, M.Arch
Director, Landscape Studies
Director, Urban Institute Studio
School of Architecture and Planning
The Catholic University of America
Washington, DC 20064
Phone: 202 319-5188
Foggy Bottom / Lower Georgetown, D.C.
Complete Book 169 pages, including text
Streetscape, Traffic, Bridges
Heritage Park, Memorial Opportunities, Cultural Center
Adaptive Use: Aqueduct Remnant, C&O Canal, Whitehurst
Markets, Cafés
Urban Landscape, Sustainability
Summary 72 pages, primarily images
Includes Kennedy Center vicinity proposal
Mixed-Use Development, Streetscape, Traffic, Plazas, Bridges,
Pedestrian-Bicycle Links / Recreation Loop
River Road / Westbard, Bethesda, MD
Complete Book 124 pages, including text
Westbard/Westwood Master Plan, Mixed-Use Development, Parks
River Road Streetscape, Traffic
Capital Crescent Trail Parks
Addenda: 1982 Sector Plan, Community Survey,
Environmental Statement
Urban Landscape, Sustainability
Summary 18 pages, text and images
Historic Anacostia / Poplar Point, D.C.
Complete Book 107 pages
Streetscape, Traffic / Streetcar, Bridges
Plazas, Parks, Riverfront Promenade, Wetlands, Nature Center
Pedestrian/Transit-Oriented Mixed-Use Metro Development
Urban Landscape, Sustainability
Brookland, D.C.
Complete Book 58 pages
Streetscape, Traffic / Streetcar (or Bus), Bridges, Metro / Transportation Hub
Plazas, Parks, Mixed-Use Development, Town Center Retail
Urban Landscape, Sustainability
Xi Yuan Community at Summer Palace, Beijing, China
Complete Book 38 pages
Streetscape, Traffic, Bridges, Canal, Transportation Hub
Parks, Plazas, Gateways
Markets, Heritage Cultural Center, Commercial Development
Residential: Courtyard / Townhouse Typologies
Institutional: School, Senior Center, Community Center, Clinic
Urban Landscape, Infrastructure, Sustainability
Pleasant Plaines / Howard University Vicinity, D.C.
Complete Book 100 pages
Streetscape, Traffic
Parks, Plazas, Recreation / Sports, Playground
Markets, Galleries, Mixed-Use Development
Urban Landscape, Sustainability