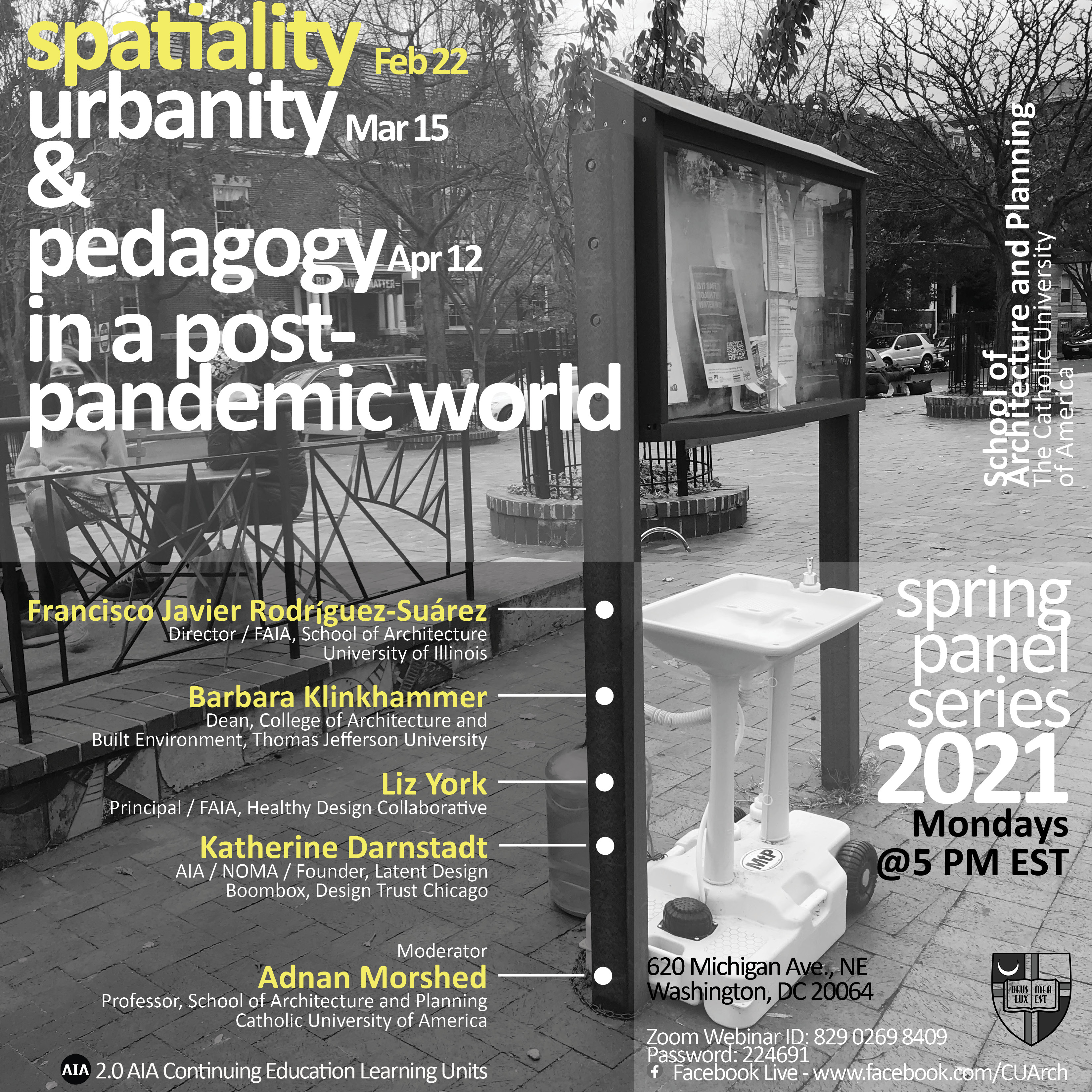 Albert Einstein once said, "The world as we have created it is a process of our thinking. It cannot be changed without changing our thinking." How do we know when our thinking and the world it produces need to change? Does that moment arrive as part of natural cycles or because of human action? Recalling Thomas Kuhn, what is the politics of "paradigm shift" in the 21st century, particularly in the wake of a global pandemic?

These questions provide us with a framework to debate the nature of the built environment and the pedagogy it warrants in a post-pandemic world. There is little doubt that the 2020 pandemic has profoundly affected the entire world with unimaginable economic, social, public-health, urban, and environmental consequences. It has exposed, among other vulnerabilities, our weakness in disaster preparedness, our inadequacies in creating inclusive public-health infrastructures, our privileged hesitation to tackle racial, social, and gender injustice, and our misguided policies of urban governance and spatial management. The pandemic has also compelled us to question some of the fundamentals of our lives, politics, societies, and institutions. The fear of contracting Covid-19 has made us conscious of the traditional ways we use public and private spaces. Our pandemic-induced anxiety of being in public places made us suspicious of urban density and social proximity. Shifts in workplace culture are not only shrinking the city's retail and office areas but also changing the very notions of home, office, and commuting. The pandemic has resulted in empty office spaces in many cities, provoking ideas as to how to convert offices into residential units and homes into home-office hybrids. As tourism and business travel dwindle, the future of hotel space becomes increasingly uncertain.       

Should we reimagine the "disciplinary matrix" of architecture (whatever it means) to combat future pandemics, while ensuring urban equity as a foundation for socio-urban organization? What kind of city planning would prevent viral spread, while urban poverty and gender disparity are mitigated with a new generation of humanist considerations? What is, or should be, the nature of spatial and urban pedagogy in a post-pandemic world? The 13th-century Persian poet Rumi wrote: "Yesterday I was clever, so I wanted to change the world. Today I am wise, so I am changing myself." What does it mean to be "wise" in the context of today's politics, spatiality, and urbanity to anticipate the nature of change itself? Between 1347 and 1352, the Black Death killed nearly 40% of Europe's population. What can we learn from the ways the Black Death catalyzed the collapse of the medieval feudal economy and signaled the advent of the Renaissance and gradually the modern world? Is it time to revisit the 19th-century public-health origins of modern architecture and urban planning in London, New York, Paris, Kolkata, and other metropolises?

As architects and urban professionals engaged in the stewardship of the built environment, we are challenged to reconsider the future of architecture, cities, and the pedagogies with which we endeavor to understand the spatial dimensions of humanity's wellbeing. Are our building sciences adequate to address the calamities of future pandemics, economic inequity, and other social pathologies? Emboldened by an unflinching belief in technological prowess, have we forgotten the time-tested passive methods of keeping buildings healthy and economical? Are we developing our cities turning a blind eye to the systemic racial and gender injustices that plague our cities? Have we undermined the power of empathy in user-conscious space-making?

The Spring Panel Series 2021 at the Catholic University of America Architecture plans to develop a critical conversation on post-pandemic thinking on spatiality (Feb. 22), urbanity (Mar. 15), and pedagogy (APR. 12). Adnan Morshed, professor at the School of Architecture and Planning, CUA, will moderate the panels that include academics, architects, urban planners.
Meet our panelists
Francisco Javier Rodríguez-Suárez - Director/FAIA, School of Architecture University of Illinois

Francisco Javier Rodríguez-Suárez, FAIA, is the Clayton T. Miers Professor in Architecture & Director of the Illinois School of Architecture. Rodríguez-Suárez studied architecture at Georgia Tech, Paris and Harvard GSD, where he earned a Master of Architecture with Distinction winning the American Institute of Architects Medal, Portfolio Award, and a Fulbright Fellowship. Rodríguez-Suárez was the Dean of the UPR School of Architecture. He has lectured and taught at various prestigious universities worldwide. His practice has earned over 10 AIA-PR Awards, citations and BIENAL awards. Rodríguez-Suárez is a Fellow of the AIA and was selected by El Nuevo Día newspaper as one of the ten most influential pioneers in Puerto Rico in 2008. He recently finished his term as President of the Association of Collegiate Schools of Architecture.

Barbara Klinkhammer - Dean, College of Architecture and Built Environment at Thomas Jefferson University

Barbara Klinkhammer is the Executive Dean of the College of Architecture and the Built Environment at Thomas Jefferson University. She holds a degree in architecture from RWTH-Aachen, a German research university. She is a registered architect in Germany and Europe, and practiced worldwide. An alumna of the HERS Bryn Mawr Summer Institute for Women in Higher Education, she serves on the Women's Leadership Council of the Association of Collegiate Architecture Schools. Prior to coming to the United States, Klinkhammer taught at the Bauhaus University in Germany. Klinkhammer was an Associate Dean, and the Chair of several architectural programs at the University of Tennessee. She was a Co-PI for the UT solar house 'Living Light', an award-winning project sponsored by the US Department of Energy. Currently, she is working on her book After Purism: Le Corbusier and Color.

Liz York - Principal/ FAIA at Healthy Design Collaborative

Liz York, FAIA, serves as Senior Advisor for Buildings and Facilities Policy and Innovation.She is a registered architect and received a Bachelor of Science and a Master of Architecture from Georgia Institute of Technology. She previously served as the Chief Sustainability Officer for the Centers for Disease Control and Prevention.  Liz has received two White House awards for Sustainability, been named to the Atlanta Business Chronicle's Sustainability Who's Who and has been recognized by AIA as a Fellow for her work to impact health and well-being by empowering architects to build better environments. In 2016, Liz was elevated to the College of Fellows of AIA for her work to impact health and well-being by empowering architects to build better environments. AIA Ga honored Liz by naming their Equity in Design Emerging Professional Scholarship for her.

Katherine Darnstadt - AIA/NOMA/Founder, Latent Design Boombox, Design Trust Chicago

Katherine Darnstadt is the founder of Latent Design, a progressive architecture and urbanism firm leveraging civic innovation and social impact to design more equitable spaces and systems. Since founding her practice in 2010, Katherine and her firm have prototyped new urban design systems to advance urban agriculture, support small business, created spaces for youth makers, advanced building innovation, and created public space frameworks. As the founder of Boombox, Chicago's first micro retail popup in a shipping container, she supported over 150 small businesses and built new models of finance and policy to support micro retain in Chicago. As the co-founder of the recently launched Design Trust Chicago, she is seeking to re-establish a community design studio focused at the city scale. She and the firm have been published, exhibited and featured widely, most notably eighty feet in the air in Times Square for winning a Chicago Innovation Award, underwater at the International Venice Architecture Biennial, the first Architizer A+ Awards, Chicago Ideas Week, NPR, American Institute of Architects Young Architects Honor Award winner and Crain's Chicago 40 Under 40. She previously taught at The School of the Art Institute of Chicago and Northwestern University.