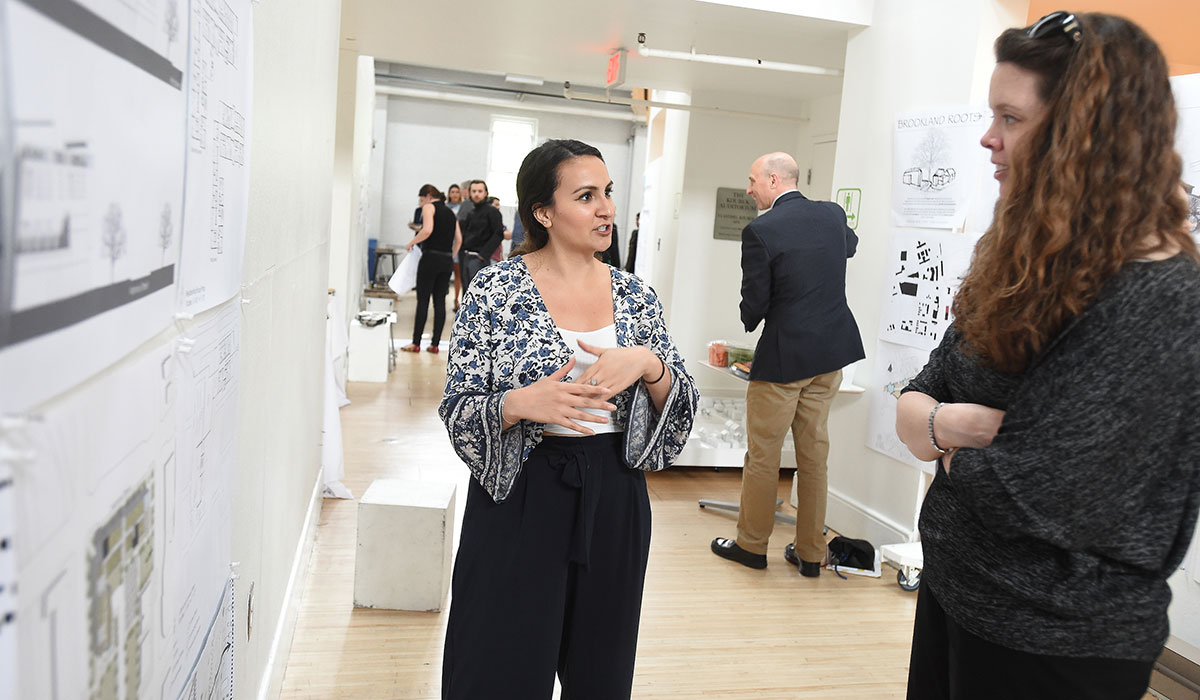 Two-year, professional degree
The Master of City and Regional Planning curriculum prepares students with the foundation to become generalist planners and steward planners according to the CUArch mission of building stewardship. The planning curriculum provides graduate students with a program of study that integrates planning history, theory, practice, zoning and legal aspects, land use, transportation, and analytical methods. Coupled with a design orientation, these policy-related subjects will be framed within sustainable design and planning principles.  Students will have the opportunity to study planning principles and practices from practicing urban planners, participate in planning studios focusing on real urban issues and benefit from interaction with architecture professors and students.
The M.C.R.P. is a minimum two-year, 42-credit-hour program. Most classes are offered in the evening to accommodate working professionals. Students may enroll on a full-time or part-time basis and enter the program in the fall, spring, or summer semester.
An optional design focus is available, extending the program to 60 credit hours. The additional coursework in the design focus program will strengthen the physical design skills for those who do not have an architecture background or who want to extend their training in the context of physical planning. If pursued in conjunction with the M.Arch program, requirements can be reduced up to 12 credit hours.
Building Stewardship
Throughout the School of Architecture and Planning, students are guided by the mission of building stewardship. The CUA+P Master of City and Regional Planning program works at the intersection of design, policy, and social and environmental responsibility to train students to become stewards of the built, natural, and cultural environments. Though not solely a design-based curriculum, the M.C.R.P. builds on Catholic University's strong tradition of education in architecture and sustainability to prepare students to become both generalist planners and steward planners. To address the growing need for planning and design interventions that include environmental impacts, students in the City and Regional Planning program explore various methods of creating better environments through the use of sustainable design practices and planning principles.

Several changes have been made to the program since it was launched in 2008. Effective January 2016, the total credit hours of the program was reduced from 48 to 42. New joint-degree options are now available so that students can combine their interests in architecture, sustainable design, and facilities management with city planning. Students may enroll simultaneously in the school's accredited Master of Architecture (M.Arch.) program and the Master of City and Regional Planning. They may also enroll simultaneously in either the Master of Science in Sustainable Design or the Master of Science in Facilities Management and the Master of City and Regional Planning. As part of the joint-degree program, students are able to obtain the two degrees at an accelerated rate. See the descriptions under each joint degree for the specifics of the program.
Accreditation
While there is no mandatory licensure for planners except in the state of New Jersey, emphasis is being placed on the American Institute of Certified Planners (AICP) examination as the credential for practicing planners.  One may sit for the AICP exam with a degree from a non-accredited planning program with three years of eligible professional planning experience. Information about the PAB accreditation process and eligibility requirements for the AICP exam can be found at: http://www.planning.org/certification/